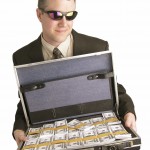 A Financial Industry Regulatory Authority (FINRA) hearing panel recently ruled that Long Island-based David Lerner Associates, Inc. (DLA) overcharged many of its clients over a period of several years. Specifically, DLA was found to have charged excessive markups on municipal bond and collateralized mortgage obligation (CMO) transactions over a two-year period, causing the firm's retail customers to pay unfairly high prices and receive lower yields than they otherwise would have received. The panel fined DLA $2.3 million and ordered the firm to pay restitution of more than $1.4 million, plus interest, to affected customers.
According to FINRA, DLA and its head trader, William Mason, charged retail customers excessive markups in more than 1,500 municipal bond transactions and more than 1,700 CMO transactions from January 2005 through August 2007. As we have previously discussed on this blog, FINRA rules require that the amount of a markup must be fair and reasonable, taking into account all relevant factors and circumstances, including the type of security involved, the availability of the security in the market and the amount of money involved in a transaction.
In this case, the panel found that DLA's municipal bond and CMO trades reflected a pattern of intentional excessive markups. The municipal bonds and CMOs in the transactions were all rated investment grade or above, and were readily available in the market at significantly lower prices than DLA charged. The hearing panel further concluded that customers subsequently received lower yields than they would have received if the markups had been fair and reasonable.
The severe sanctions reflect DLA's history of past violations related to excessive markups. The firm received a Letter of Caution raising FINRA's concerns about DLA's markup practices after a 2004 exam, and also received a Wells Notices concerning the matter in July 2009. Despite these warnings, DLA continued its unfair pricing practice.
If your broker has overcharged you, we may be able to help you recover your losses. Contact us today at 215-839-3953 for a free consultation.
At Wall Street Fraud, we are dedicated to offering assistance to those who have been hurt by improper corporate or investment practices.
If you have been the victim of stock brokerage fraud, securities fraud, mutual fund fraud, stockbroker fraud, annuities fraud, or any other type of investment fraud or negligence, please contact our securities fraud attorneys today for a free case evaluation. Our talented and aggressive legal and professional staff is eager to help you recover your losses.