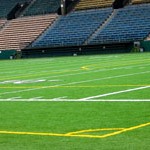 National Football League player Dwight Freeney has been the victim of investment fraud, adding another famous name to the long list of professional athletes that have been targeted by unscrupulous investment professionals. Eva Weinberg, a former Bank of America Merrill Lynch financial advisor, is charged with fraudulently wiring $2.2 million from his account.
As On Wall Street reports, Weinberg had worked as Freeney's financial adviser for the past two years after leaving Bank of America Corp.'s Merrill Lynch financial management division. She handled his personal finances, real estate investments and business dealings involving his Hollywood restaurant.
An FBI investigation revealed that Weinberg wired approximately $2.2 million over the course of 140 separate transactions from Freeney's bank account to Arm's Reach Consulting. The company is owned by Michael A. Stern, who is also charged in the investment fraud. Freeney didn't approve the transfers and was unaware Stern was the recipient.
"There was no legitimate purpose for these wire transfers, and they were not authorized by D.F. – as neither Weinberg nor Stern ever notified D.F. of the wire transfers," the criminal complaint states. "Once the money was wired from D.F.'s accounts, Weinberg, Stern and others benefited by using the money for personal expenditures that were not related to D.F."
For more information about investment frauds targeting professional athletes, please check out our previous posts.
If you have been the victim of investment fraud or negligence, we may be able to help you recover your losses. Contact us today at 215-839-3953 for a free consultation.
At Wall Street Fraud, we are dedicated to offering assistance to those who have been hurt by improper corporate or investment practices.
If you have been the victim of stock brokerage fraud, securities fraud, mutual fund fraud, stockbroker fraud, annuities fraud, or any other type of investment fraud or negligence, please contact our securities fraud attorneys today for a free case evaluation. Our talented and aggressive legal and professional staff is eager to help you recover your losses.