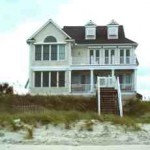 The Securities and Exchange Commission has charged a New York-based investment adviser with defrauding investors in five offshore funds and using some of their money to purchase a writing paper multi-million dollar beach resort property on Long Island.
This case is a classic example of an unscrupulous investment professional enriching himself at the expense of defrauded investors.
"Callahan's solicitation of investors involved material misrepresentations about the use of their money, the liquidity of their investments and the asset diversification," the SEC said. The agency's request for a freeze on his assets was granted.
According to the SEC, Brian Raymond Callahan of Old Westbury, N.Y., raised more than $74 million from at least two dozen investors since 2005, promising them their money would be invested in hedge funds. Instead, Callahan diverted investor money to his brother-in-law's beach resort project that was facing foreclosure, and in return received unsecured, illiquid promissory notes.
Callahan operated the five funds through his investment advisory firms Horizon Global Advisors Ltd. and Horizon Global Advisors LLC. He used the promissory notes to hide his misuse of investor funds. The promissory notes overstated the amount of money diverted to the real estate project. For instance, in 2011, Callahan received $14.5 million in promissory notes in exchange for only $3.3 million he provided to his brother-in-law. The inflated promissory notes allowed Callahan to overstate the amount of assets he was managing and inflate his management fees by 800 percent or more.
According to the SEC's complaint, Callahan refused to testify in the SEC's investigation and recently informed investors about the investigation, but gave false assurances that no laws had been broken. Callahan also misled investors by not disclosing that in 2009, the Financial Regulatory Industry Authority barred him from associating with any FINRA member.
If you have been the victim of investment adviser fraud, we may be able to help you recover your losses. Contact us today at 215-839-3953 for a free consultation.
At Wall Street Fraud, we are dedicated to offering assistance to those who have been hurt by improper corporate or investment practices.
If you have been the victim of stock brokerage fraud, securities fraud, mutual fund fraud, stockbroker fraud, annuities fraud, or any other type of investment fraud or negligence, please contact our securities fraud attorneys today for a free case evaluation. Our talented and aggressive legal and professional staff is eager to help you recover your losses.