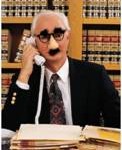 A recent securities fraud case highlights the importance of always investigating the credentials and background of anyone offering you an investment opportunity. Unfortunately, the failure to do so can lead to serious investment losses.
As detailed in a recent FBI press statement, Telson Okhio, the president of Ohio Group Holdings Inc. ("OGH"), an alleged investment firm, was behind the investment fraud. He pleaded guilty to a charge of wire fraud and faces a maximum sentence of 20 years' imprisonment.
Between February and April 2009, Okhio, posing as an investment adviser, solicited $5 million from an investor in Hawaii. Okhio assured the investor that he would invest his money in a $100 million trading platform in the foreign currency exchange market. Okhio also assured the investor that his investment would earn a 200 percent profit in four weeks and that his investment would never be at risk.
Almost immediately after the victim wired $5 million from a bank account in Hawaii to OGH's bank account at a branch of Bank of America in Queens, New York, Okhio wire-transferred $1 million of the investment to his personal account at JPMorgan Chase in Queens, New York. From there, Okhio withdrew the $1 million through a series of cash and ATM withdrawals and wire transfers to third parties. The investor lost approximately one million dollars in the scheme.
"Investors should beware of deals that sound too good to be true and should always look into the bona fides of their investment advisers. The defendant represented himself as a trustworthy adviser with access to sophisticated and safe investments. In reality, he was a con man who stole a million dollars from his investor. We will aggressively prosecute such outright thefts by so-called investment professionals," stated United States Attorney Lynch.
If you have been the victim of securities fraud, we may be able to help you recover your losses. Contact us today at 215-839-3953 for a free consultation.
At Wall Street Fraud, we are dedicated to offering assistance to those who have been hurt by improper corporate or investment practices.
If you have been the victim of stock brokerage fraud, securities fraud, mutual fund fraud, stockbroker fraud, annuities fraud, or any other type of investment fraud or negligence, please contact our securities fraud attorneys today for a free case evaluation. Our talented and aggressive legal and professional staff is eager to help you recover your losses.