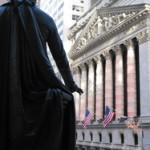 A former broker in Bellevue, Washington broker has been sentenced to four-and-a-half years in prison in connection with an elaborate securities fraud. Richard A. Finger Jr., 32, pleaded guilty in November to churning customers' brokerage accounts, issuing false account statements, and forging letters from customers indicating they had approved his trades.
According to the U.S. Attorney, Finger owned and operated Black Diamond Capital Management, LLC and Black Diamond Securities, LLC of Kirkland, Washington.  He used those entities to defraud ten clients, including family and friends, out of as much as $7 million.
At sentencing U.S. District Judge Ricardo S. Martinez asked him "You had to know the potential impact this would have on all the people who trusted you with their savings.  What did you see when you looked in the mirror?"
One victim invested nearly $700,000 with Finger.  From the fall of 2009 through 2010, Finger assured the client the investments were growing steadily, when in fact the account was sustaining significant losses.  When Finger moved from a Seattle brokerage to his own firm, he provided the client with phony statements showing his account was worth more than $1.2 million – in fact at that time the account was worth less than $5,500.  In addition to the trading losses, FINGER admits taking significant commissions from ten accounts and using them for his own benefit.
The plea agreement, filed in November 2011, further details how a second client invested $1 million with Finger in early June 2011, and by the end of the month the account had lost $160,000 due to trades, and was charged an additional $400,000 in commissions. By mid July 2011, the account was worth less than $225,000.  This second client and nine others were provided statements by email.  The emailed statements were false, but were made to appear legitimate by following the format of the clearing firm Finger used to place the trades. Finger transferred hundreds of thousands of dollars from the brokerage accounts to his own personal checking account as large commissions to pay for his own credit card bills, food and entertainment as well as business expenses such as payroll, fees and taxes.
"Month after month, defendant Finger led investors to believe that he was generating positive returns on their millions of dollars when, in fact, he was causing significant losses and siphoning of hundreds of thousands of dollars in undisclosed, excessive commissions.  Defendant Finger's fraud allowed him to live a very lavish lifestyle at the expense of his investors," prosecutors wrote in their sentencing memo.
If you have been the victim of stockbroker fraud, we may be able to help you recover your losses. Contact us today at 215-839-3953 for a free consultation.
At Wall Street Fraud, we are dedicated to offering assistance to those who have been hurt by improper corporate or investment practices.
If you have been the victim of stock brokerage fraud, securities fraud, mutual fund fraud, stockbroker fraud, annuities fraud, or any other type of investment fraud or negligence, please contact our securities fraud attorneys today for a free case evaluation. Our talented and aggressive legal and professional staff is eager to help you recover your losses.