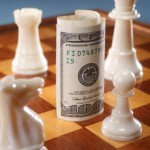 The Financial Industry Regulatory Authority will bring enforcement cases against several brokerages for selling exchange-traded funds that were unsuitable for their customers, according to regulator. As we discussed in a prior post, FINRA listed ETFs as one of its regulatory and examination priorities for 2012.
FINRA enforcement chief Bradley Bennett told Reuters that the cases will be related to unsuitable sales of leveraged and inverse exchange-traded funds. The cases will also involve allegations of improper or inadequate training for brokers who sell ETFs, he said. Bennett declined to name the firms involved.
FINRA is concerned that brokers are selling these products to long-term retail investors, despite the associated risks. While professional traders frequently purchase ETFs, they are often inappropriate for retail investors, particularly given that they are generally not held for more than one day.
"We don't have a qualm with the product," Bennett told Reuters. "We just want to make sure that people who are selling them understand them."
Bennett told lawyers who attended a presentation at the Practising Law Institute, a training organization for lawyers, that the cases would "make statements" about what brokerages need to do to make sure their brokers are adequately trained and sell the securities to appropriate customers.
If you have been the victim of stockbroker fraud, we may be able to help you recover your losses. Contact us today at 215-839-3953 for a free consultation.
At Wall Street Fraud, we are dedicated to offering assistance to those who have been hurt by improper corporate or investment practices.
If you have been the victim of stock brokerage fraud, securities fraud, mutual fund fraud, stockbroker fraud, annuities fraud, or any other type of investment fraud or negligence, please contact our securities fraud attorneys today for a free case evaluation. Our talented and aggressive legal and professional staff is eager to help you recover your losses.