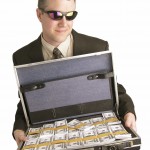 Investment fraud is thriving in the current economy, as investors seek to recoup losses from the past few years and generate higher yields.
To make sure you are not the next victim, investors need to be extra vigilant before and after making investments.
Here are five simple tips for keeping your money safe:
Understand Returns Are Not Guaranteed: The promise of guaranteed returns is one of the biggest red flag for investment fraud because it is impossible to have a risk-free investment. In addition, higher returns generally mean higher risks.
Don't Invest More than You Are Willing to Lose: Before turning over your hard earned money, it is important to find out find out how you can get your money back and what fees or penalties may be involved. It is also important not to invest your money all in one place.
Keep Good Records: As we have highlighted on this blog, it is important to both read and save any statements, disclosures, sales materials, etc. that you receive in connection with an investment. These may become invaluable should you have a problem down the road.
Report Problems Immediately: If you suspect fraud or other problems with your investments, it is important to report it immediately. You should start with your advisory or brokerage firm, but if your concerns are not addressed, it is important to contact FINRA or your state's securities regulator.
Hire a Private Attorney: In most cases, it is necessary to take individual action to get your money back. This means hiring an experienced securities fraud attorney.
Source: CNBC
If you have been the victim of investment fraud, we may be able to help you recover your losses. Contact us today at 215-839-3953 for a free consultation.
At Wall Street Fraud, we are dedicated to offering assistance to those who have been hurt by improper corporate or investment practices.
If you have been the victim of stock brokerage fraud, securities fraud, mutual fund fraud, stockbroker fraud, annuities fraud, or any other type of investment fraud or negligence, please contact our securities fraud attorneys today for a free case evaluation. Our talented and aggressive legal and professional staff is eager to help you recover your losses.