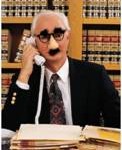 Four Philadelphia area men are facing criminal charges in connection with operating an elaborate financial fraud scheme targeting hundreds of senior citizens across Pennsylvania. According to Attorney General Linda Kelly, the scam defrauded at least 218 elderly victims, with an average age of 83 years old.
The financial fraud scheme specifically deceived elderly victims into spending thousands of dollars for "home care" or "home security" services that would supposedly assist seniors with their future care. As in many cases of elder financial fraud, many of the victims were widowed and living alone, without nearly family members.
"This was a disturbing and despicable scheme designed to extract as much money as possible from unwitting seniors who believed they were protecting themselves against costly future home-care expenses," Kelly said. "These con artists left a string of more than 200 victims, stretching from Philadelphia to Erie, and stole more than $700,000 through the sale of contracts for bogus home care services or stolen insurance premiums."
For more information about preventing elder financial fraud, please see our previous posts.
If you have been the victim of elder financial fraud, we may be able to help you recover your losses. Contact us today at 215-839-3953 for a free consultation.
At Wall Street Fraud, we are dedicated to offering assistance to those who have been hurt by improper corporate or investment practices.
If you have been the victim of stock brokerage fraud, securities fraud, mutual fund fraud, stockbroker fraud, annuities fraud, or any other type of investment fraud or negligence, please contact our securities fraud attorneys today for a free case evaluation. Our talented and aggressive legal and professional staff is eager to help you recover your losses.