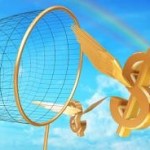 The Pennsylvania Securities Commission is warning investors about trying to rebuild retirement savings lost in the economic downturn by chasing higher returns. As we have stated on this blog, higher returns almost always mean higher risks. Therefore, any deal that claims to offer the opportunity to help recoup investment losses overnight should be met with skepticism.
"The laws of economics haven't repealed because the economy went sour in 2008," says Securities Commission Chairman Robert Lam. "If someone legitimately promises high yield, it comes with significant risk. The record low interest rates have created a fertile ground for people looking to separate people from their hard-earned savings."
To help investors spot scams, the Philadelphia Securities Commission offers a three-part test:
Are claims made for the investment realistic? Use common sense and get a professional, third-party opinion when presented with investment opportunities that seem to offer unusually high returns in comparison to other investment options.
Has the seller given you written information that fully explains the investment? Request written information that fully explains the investment, such as a prospectus or offering circular. The documentation should contain enough clear and accurate information to allow you or your investment adviser to evaluate and verify the particulars of the investment. If it's not in writing, exercise extra caution.
Are the seller and investment licensed and registered in your state? It's easy to check. Call the Pennsylvania Securities Commission toll free at 1-800-600-0007 or file a request online at www.psc.pa.gov . If the salesman or sales firm
If you have been the victim of securities fraud, we may be able to help you recover your losses. Contact us today at 215-839-3953 for a free consultation.
At Wall Street Fraud, we are dedicated to offering assistance to those who have been hurt by improper corporate or investment practices.
If you have been the victim of stock brokerage fraud, securities fraud, mutual fund fraud, stockbroker fraud, annuities fraud, or any other type of investment fraud or negligence, please contact our securities fraud attorneys today for a free case evaluation. Our talented and aggressive legal and professional staff is eager to help you recover your losses.