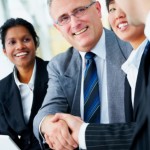 In the wake of the financial crisis and the investment fraud scandals that followed, many investors are understandably leery about turning over their hard-earned money to financial professionals. In his remarks at the Financial Industry Regulatory Authority's annual conference, CEO Richard G. Ketchum told brokers and advisers that they must place customers' interests before their firms' in order to rebuild trust with the public.
"Before any complex product is offered to a retail client, your financial adviser should be able to write down on a single page why this investment is in the best interest of your client," Ketchum said.
Ketchum further emphasized that FINRA and other regulators have stepped up enforcement against firms that led customers into buying complex products they didn't understand or need. One example he highlighted was reverse indexed leverage funds, which we have also discussed on this blog.
Ketchum specifically reinforced brokers responsibilities when it comes to both suitability and disclosure. "This means describing the circumstances under which the customer could lose money, not just those under which the customer would earn money. It also means explaining carefully the direct and imputed costs your client will incur and, where applicable, the fact that your firm or an affiliate is on the other side of the transaction," Ketchum said.
Source: Courthouse News
If you have been the victim of broker fraud or negligence, we may be able to help you recover your losses. Contact us today at 215-839-3953 for a free consultation.
At Wall Street Fraud, we are dedicated to offering assistance to those who have been hurt by improper corporate or investment practices.
If you have been the victim of stock brokerage fraud, securities fraud, mutual fund fraud, stockbroker fraud, annuities fraud, or any other type of investment fraud or negligence, please contact our securities fraud attorneys today for a free case evaluation. Our talented and aggressive legal and professional staff is eager to help you recover your losses.