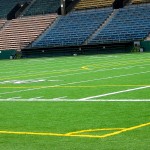 Quarterback Vince Young appears to be the latest star athlete to fall victim to investment fraud. He recently filed a lawsuit against his former financial advisor and former agent for fraud and breach of contract. Young contends they are responsible for "losing" at least $5.5 million.
Young has filed suit in Harris County civil court in Houston against his financial advisor, Ronnie T. Peoples of Peoples Financial Service Inc. in Raleigh, N.C., and his former agent, Houston lawyer Major L. Adams II, according to Financial Advisor Magazine. The suit alleges claims for fraud, unjust enrichment, conversion, breach of fiduciary duty, usury, and breach of contact.
Some of the offenses may have involved forgeries of Young's name, according to Young's attorney. Millions of dollars are reportedly unaccounted for from the five years that Young played for the Tennessee Titans, during which he was paid $54 million.
As this latest case highlights, unscrupulous brokers and investments advisers often target sports stars and their substantial wealth. For more information about investment fraud targeting professional athletes, please see our previous posts.
If you have been the victim of investment adviser fraud or negligence, we may be able to help you recover your losses. Contact us today at 215-839-3953 for a free consultation.
At Wall Street Fraud, we are dedicated to offering assistance to those who have been hurt by improper corporate or investment practices.
If you have been the victim of stock brokerage fraud, securities fraud, mutual fund fraud, stockbroker fraud, annuities fraud, or any other type of investment fraud or negligence, please contact our securities fraud attorneys today for a free case evaluation. Our talented and aggressive legal and professional staff is eager to help you recover your losses.