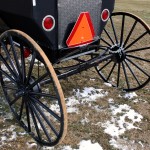 An Amish investment adviser was recently sentenced to over six years in prison for an investment fraud that targeted members of his own community. While the Amish investment fraud may be unusual, it is not uncommon for unscrupulous advisers and brokers to target specific communities and groups to which they belong.
Monroe Beachy, 78, admitted to sending his clients false monthly and quarterly statements, claiming their investments were profitable when they were really suffering significant losses. Beachy claimed that he thought he could recoup the losses, if given enough time. However, prosecutors disagreed, arguing that he was obligated to tell investors the truth.
"Obviously it's the government's position that it was Mr. Beachy's responsibility. He's the one that each month or each quarter falsified those investment statements, so he's the one that is responsible to blame," said U.S. Assistant Attorney Linda Barr.
According to prosecutors, Beachy operated A & M Investments until he filed for bankruptcy several years ago. At that time, he reportedly had approximately 3,300 clients in 29 states, mostly Amish and Mennonite. He owed them more than $16 million. Beachy will also be required to make restitution at the conclusion of his bankruptcy case, which could be $10 million to $12 million.
Source: WYTV.com
If you have been the victim of adviser or broker fraud or negligence, we may be able to help you recover your losses. Contact us today at 215-839-3953 for a free consultation.
At Wall Street Fraud, we are dedicated to offering assistance to those who have been hurt by improper corporate or investment practices.
If you have been the victim of stock brokerage fraud, securities fraud, mutual fund fraud, stockbroker fraud, annuities fraud, or any other type of investment fraud or negligence, please contact our securities fraud attorneys today for a free case evaluation. Our talented and aggressive legal and professional staff is eager to help you recover your losses.