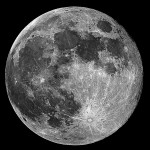 A Florida broker is facing charges of securities fraud after literally basing his investment decisions on the moon and the stars, all without investors' knowledge. According to the Securities and Exchange Commission, Gurudeo "Buddy" Persaud promised investors high returns and safe investments, but was really using an Internet service that tracked the lunar cycles to inform his investment decisions.
As detailed in the complaint:
The primary principle underlying Persaud's trading strategy was that the gravitational pull between the moon and Earth affects mass human behavior, which in turn affects the stock markets. For example, Persaud believed that when the moon is positioned so there is a greater gravitational pull on humans, they feel down and are therefore more inclined to sell securities in the markets.
As you can imagine, this strategy was less than successful. Persaud lost at least $400,000 of investor money. To cover up the losses, he provided investors with fraudulent account statements. He also diverted funds to pay for some personal expenses, according to the complaint.
While we doubt any of the defrauded investors are laughing, the SEC has a sense of humor about this case. "When Persaud blatantly lied to investors and hid their losses through a Ponzi scheme, he should have known that an SEC enforcement action was in the stars," said Eric Bustillo, director of the SEC's Miami office.
If you have been the victim of broker fraud or negligence, we may be able to help you recover your losses. Contact us today at 215-839-3953 for a free consultation.
At Wall Street Fraud, we are dedicated to offering assistance to those who have been hurt by improper corporate or investment practices.
If you have been the victim of stock brokerage fraud, securities fraud, mutual fund fraud, stockbroker fraud, annuities fraud, or any other type of investment fraud or negligence, please contact our securities fraud attorneys today for a free case evaluation. Our talented and aggressive legal and professional staff is eager to help you recover your losses.