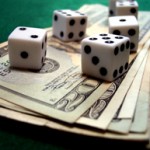 Investors may be familiar with Russell Wasendorf Sr. His Iowa brokerage has been at the center of media attention every since Wasendorf left a bizarre suicide note confessing to an elaborate investment fraud scheme that lasted over twenty years. After the failed attempt to take his own life, he now faces charges of misappropriating more than $200 million in customer funds from his firm, Peregrine Financial Group.
As detailed in a recent Reuters article, Wasendorf's confession shows how he was able to operate the investment scheme for so long. According to Wasendorf, he started forging bank documents after his brokerage firm risked failing without additional capital. "I was forced into a difficult decision: Should I go out of business or cheat?" he wrote.
"I guess my ego was too big to admit failure. So I cheated," he wrote.
The letter details how Wasendorf was able to fool company executives and federal regulators with his brazen personality and a few office tools. Wasendorf allegedly used a combination of "Photoshop, Excel, scanners and both laser and ink-jet printers" to forge counterfeit bank statements, which were then forwarded to the accounting department.
"With careful concealment and blunt authority I was able to hide my fraud from others at PFG," his statement read, adding "everyone knew I was the guy in charge".
After regulators started to send customer balance confirmation forms to banks used by brokers, Wasendorf stated he opened a P.O. Box in the bank's name. This allowed him to intercept the auditors' forms, enter fraudulent information, and send it back undetected.
The elaborate fraud, which closely follows the demise of MF Global, clearly raises serious questions about the risks associated with futures trading and the need for additional federal oversight.
If you have been the victim of adviser or broker fraud, we may be able to help you recover your losses. Contact us today at 215-839-3953 for a free consultation.
At Wall Street Fraud, we are dedicated to offering assistance to those who have been hurt by improper corporate or investment practices.
If you have been the victim of stock brokerage fraud, securities fraud, mutual fund fraud, stockbroker fraud, annuities fraud, or any other type of investment fraud or negligence, please contact our securities fraud attorneys today for a free case evaluation. Our talented and aggressive legal and professional staff is eager to help you recover your losses.