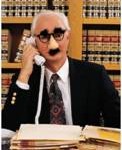 Investment fraudsters are increasing targeting baby boomers and the savings they have accumulated. Therefore, it is imperative that this generation keeps a watchful eye on their investments.
According to a recent Fox Business report, state securities regulators are seeing a dramatic increase in investment fraud against Americans over 50. In 2010, they pursued 1,241 enforcement actions, including criminal complaints and cease-and-desist orders, involving older investors. This was more than a two-fold increase since 2009.
"The reason they're targeting seniors is pretty simple," says Matt Kitzi, Missouri's securities administrator and chairman of the North American Securities Administrators Association's enforcement committee. "The seniors are the segment of the population that have managed to save and accrue the most investments. Bad guys, crooks and hucksters are going to follow the money. And seniors have had a lifetime to accrue investments and funds."
Unfortunately, investment frauds targeting baby boomers are predicted to continue to increase. With this in mind, investors should always carefully research any investment opportunity.
If you have been the victim of investment fraud, we may be able to help you recover your losses. Contact us today at 215-839-3953 for a free consultation.
At Wall Street Fraud, we are dedicated to offering assistance to those who have been hurt by improper corporate or investment practices.
If you have been the victim of stock brokerage fraud, securities fraud, mutual fund fraud, stockbroker fraud, annuities fraud, or any other type of investment fraud or negligence, please contact our securities fraud attorneys today for a free case evaluation. Our talented and aggressive legal and professional staff is eager to help you recover your losses.