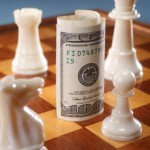 As we continually emphasizes on this securities fraud blog, it is important that investors understand the risks associated with a financial product before turning over their hard earned money. While brokers are obligated to inform you of those risks, it is also a good idea to be as informed as possible.
While the risks associated with different types of investment products do differ, there are several common types of risks that are associated with most investments. The two most common are market risk and business risk.
Business risk is associated with investing in a particular product, company, or industry sector; these risks are often referred to as "non-systematic" risks. Examples include bad management decisions by a company that impacts the value or the stock as well as the risk of default.
In contrast, market risk, often called systematic risk, involves factors that affect the overall economy or securities markets. Below are a few common examples:
Interest Rate Risk relates to the risk of reduction in the value of a security due to changes in interest rates.
Inflation Risk is the risk that general increases in prices of goods and services will reduce the value of money, and likely negatively impact the value of investments.
Currency Risk comes into play if money needs to be converted to a different currency to purchase or sell an investment. In such instances, any change in the exchange rate between that currency and U.S. dollars can increase or reduce your investment return.
Liquidity Risk relates to the risk of not being able to buy or sell investments quickly for a price that tracks the true underlying value of the asset.
Sociopolitical Risk involves the impact on the market in response to political and social events such as a terrorist attack, war, pandemic, or elections.
Source: Saveandinvest.org
Of course, there are steps investors can take to mitigate risk. One of the best ways is to diversify your investments so that the risk is spread out over different types of products. As always, it is also important to conduct due diligence to make sure you understand the particular risks of an investment.
At Wall Street Fraud, we are dedicated to offering assistance to those who have been hurt by improper corporate or investment practices.
If you have been the victim of stock brokerage fraud, securities fraud, mutual fund fraud, stockbroker fraud, annuities fraud, or any other type of investment fraud or negligence, please contact our securities fraud attorneys today for a free case evaluation. Our talented and aggressive legal and professional staff is eager to help you recover your losses.