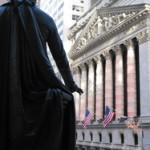 The Financial Industry Regulatory Authority is having a record year, according to a new report. Fines and enforcement actions will exceed 2011 figures, if the current trend continues.
During the first half of 2012, FINRA imposed $39.4 million in fines against brokers and their firms. If sanctions continue at this rate, 2012 will represent a 15% increase from the total fines reported by FINRA in 2011.
FINRA enforcement actions are also up, with 609 cases filed in the first half of the year. If this trend holds, it would represent a 9% increase over 2011.
The report also highlights the following trends:
FINRA is increasingly ordering "supersized" fines (defined as at least $1 million).  During the first half of 2012, it ordered seven "supersized" fines totaling $24 million. It ordered 10 all of last year.
During the first half of 2012, FINRA has also ordered its members to pay $12.7 million of disgorgement and restitution payments.
FINRA's projected overall increase in fines and disciplinary actions would represent a continuation of trends from recent years.
The top enforcement issues so far this year include suitability, markups/markdowns, municipal securities, research analyst communications, and unit investment trusts.
If you have been the victim of broker fraud or negligence, we may be able to help you recover your losses. Contact us today at 215-839-3953 for a free consultation.
At Wall Street Fraud, we are dedicated to offering assistance to those who have been hurt by improper corporate or investment practices.
If you have been the victim of stock brokerage fraud, securities fraud, mutual fund fraud, stockbroker fraud, annuities fraud, or any other type of investment fraud or negligence, please contact our securities fraud attorneys today for a free case evaluation. Our talented and aggressive legal and professional staff is eager to help you recover your losses.