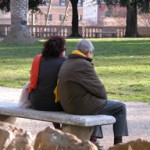 Financial abuse and investment fraud are a growing problem for older Americans, according to a recent survey of 756 experts conducted by the Investor Protection Trust and Investor Protection Institute. Even more alarming, the experts agreed that many older investors do not have the information required to properly vet financial advisors.
The elder fraud study surveyed a diverse group of professionals who regularly deal with elder fraud, including state securities regulators, financial planners, health care professionals, social workers, adult protective services, law enforcement officials, elder law attorneys, academics and others.
Three out of four experts polled said that such investment fraud and financial exploitation are a "very serious" problem in America today. Moreover, 78 percent said older Americans are "very vulnerable" to investment fraud/financial exploitation.
Below are a few additional findings:
The top three financial exploitation problems identified by the experts are: (1) "theft or diversion of funds or property by family members" (79 percent); (2) "theft or diversion of funds or property by caregivers" (49 percent); and (3) "financial scams perpetrated by strangers" (47 percent).
As for the best ways to prevent fraud, experts identified the following: (1) "programs delivered by local professionals, such as caregivers, adult protective services workers, law enforcement agencies, and health care professionals" (71 percent); (2) "programs delivered through senior centers and other facilities catering to older Americans" (65 percent); and (3) "programs delivered by senior oriented national and local organizations" (55 percent).
Nearly three in five (58 percent) said seniors are "not very able" or "not able at all" to determine "the legitimacy, value, and authenticity of credentials held by their financial advisors and planners."
The findings of this study highlight that older investors must be extra vigilant with their investments, particularly when it comes to hiring a broker or financial adviser.
If you have been the victim of elder fraud, we may be able to help you recover your losses. Contact us today at 215-839-3953 for a free consultation.
At Wall Street Fraud, we are dedicated to offering assistance to those who have been hurt by improper corporate or investment practices.
If you have been the victim of stock brokerage fraud, securities fraud, mutual fund fraud, stockbroker fraud, annuities fraud, or any other type of investment fraud or negligence, please contact our securities fraud attorneys today for a free case evaluation. Our talented and aggressive legal and professional staff is eager to help you recover your losses.