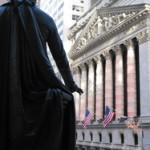 A Connecticut adviser is facing an enforcement action by the Securities and Exchange Commission for "cherry-picking" the best stock trades for himself and allocating the least favorable trades to his clients. As a result of the investment fraud scheme, the adviser made $460,000, while his clients lost $2 million.
As detailed by Investment News, the SEC alleges that Noah Myers engaged in fraudulent trade allocation by making block purchases of securities through a master account, but then delayed allocating the trade until he knew whether it would result in a trade or a loss. If a security resulted in a gain, Myers would sell it and allocate that day-trade profit to his personal and business accounts. However, if the value of the security dropped, his client accounts generally took the hit.
According to the SEC, Myers would purchase securities for consecutive days so that "the securities on which Myers was disproportionately making money were the same securities on which his clients were disproportionately losing money." The scheme also involved leveraged exchange-traded funds, which agencies such as FINRA have largely deemed unsuitable for retail investors to hold for more than one day.
The SEC was tipped off to the scheme by Charles Schwab & Co. Inc., which served as the custodian for the client accounts as well as Myers' master account. During the investigation, Myers admitted to trading in his personal accounts "but he did not offer a plausible explanation for his stellar day-trading performance."
He is now facing civil charges by the SEC that could result in significant fines and disgorgement of his illicit profits.
If you have been the victim of adviser fraud or negligence, we may be able to help you recover your losses. Contact us today at 215-839-3953 for a free consultation.
At Wall Street Fraud, we are dedicated to offering assistance to those who have been hurt by improper corporate or investment practices.
If you have been the victim of stock brokerage fraud, securities fraud, mutual fund fraud, stockbroker fraud, annuities fraud, or any other type of investment fraud or negligence, please contact our securities fraud attorneys today for a free case evaluation. Our talented and aggressive legal and professional staff is eager to help you recover your losses.