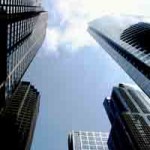 Given the recent collapse of several well known brokerage firms, a new report suggesting that auditors may not be doing their job in inspecting these firms is certainly unsettling. The Public Company Accounting Oversight Board's investigation uncovered deficiencies in the entire sample of 23 audits of brokerages conducted by 10 accounting firms.
"The auditors were not properly fulfilling their responsibilities to provide an independent check on brokers' and dealers' financial reporting and compliance with SEC rules," according to said Jeanette M. Franzel, a member of the board.
While the report does not suggest that there was any fraud involved, it does highlight several instances where auditors cut corners and failed to perform the necessary tasks to verify the information provided by the brokerage.
In 13 of the 23 audits," the board reported, auditors "did not perform sufficient procedures to identify, assess and respond to the risks of material misstatement of the financial statements due to fraud."
Audits are often one of the best ways to uncover securities fraud at a brokerage firm. Therefore, for the sake of investors who trust these firms with their retirement savings, we hope that this report leads to significant changes in the way these audits are conducted.
If you have been the victim of broker fraud or negligence, we may be able to help you recover your losses. Contact us today at 215-839-3953 for a free consultation.
At Wall Street Fraud, we are dedicated to offering assistance to those who have been hurt by improper corporate or investment practices.
If you have been the victim of stock brokerage fraud, securities fraud, mutual fund fraud, stockbroker fraud, annuities fraud, or any other type of investment fraud or negligence, please contact our securities fraud attorneys today for a free case evaluation. Our talented and aggressive legal and professional staff is eager to help you recover your losses.