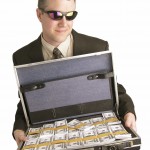 Investors should always be wary of investment claims that seem to good to be true. The Securities and Exchange Commission recently charged an asset manager who boasted remarkable profits even in the face of the Bernie Madoff scandal.
In reality, Nikolai Battoo's statements were intended to hide major losses. Instead of coming clean with investors, however, he continued to overstate the value of his investments and his ability to make money.
According to the SEC, by touting benchmark-beating returns, Battoo has continued to attract new investors. According to court papers, Battoo boasted that he could "significantly reduce market losses when nearly everyone else is losing 35 to 50 (percent)," and turn profits in 2008 despite that year's financial crisis and uncovering of Madoff's fraud. When the scheme began to unravel, Battoo used the bankruptcy of commodities broker MF Global as an excuse not to meet investor redemptions.
"Battoo attracted quite a following of investors by proclaiming his investments withstood the test of the financial crisis," SEC enforcement chief Robert Khuzami said in a statement. "Reality seems to have finally caught up with him."
If you have been the victim of securities fraud, we may be able to help you recover your losses. Contact us today at 215-839-3953 for a free consultation.
At Wall Street Fraud, we are dedicated to offering assistance to those who have been hurt by improper corporate or investment practices.
If you have been the victim of stock brokerage fraud, securities fraud, mutual fund fraud, stockbroker fraud, annuities fraud, or any other type of investment fraud or negligence, please contact our securities fraud attorneys today for a free case evaluation. Our talented and aggressive legal and professional staff is eager to help you recover your losses.