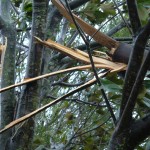 Unfortunately, the damage caused by Hurricane Sandy will likely persist well after the storm has passed, thanks to unscrupulous individuals hoping use the disaster to perpetrate investment scams.
As detailed in a recent alert issued by the Securities and Exchange Commission, the scams can take many forms, including promoters touting companies purportedly involved in cleanup efforts, trading programs that falsely guarantee high returns, and classic Ponzi schemes. "Pump and dump" schemes were particularly prevalent after Hurricane Katrina. These investment frauds use fake "news" to pump up the stock price of small companies so they can sell shares they own at artificially high prices.
Following natural disasters like Hurricane Sandy, scammers also target storm victims, particularly those receiving large, lump sum insurance payments. Therefore, it is imperative to research anyone who approaches you about an investment opportunity. Also, remember to be on the look out for classic red flags of investment fraud like promises of high returns with little or no risk.
As with any investment opportunity, one of the best ways to avoid investment fraud is to ask questions. Before turning over any money, ask whether the individual is licensed and whether the investment they are promoting is registered with the SEC or with a state. Then, verify the answers with an unbiased source, such as the SEC or your state securities regulator.
If you have been the victim of investment fraud, we may be able to help you recover your losses. Contact us today at 215-839-3953 for a free consultation.
At Wall Street Fraud, we are dedicated to offering assistance to those who have been hurt by improper corporate or investment practices.
If you have been the victim of stock brokerage fraud, securities fraud, mutual fund fraud, stockbroker fraud, annuities fraud, or any other type of investment fraud or negligence, please contact our securities fraud attorneys today for a free case evaluation. Our talented and aggressive legal and professional staff is eager to help you recover your losses.