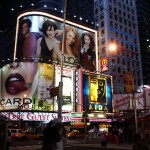 Mark Hotton, the New York stockbroker who is already facing charges for scamming the producers of the Broadway musical Rebecca, has now been accused of also bilking his brokerage clients out of millions of dollars. The Financial Industry Regulatory Authority filed an enforcement action earlier this month alleging that Hutton has misappropriated a total of $5.9 million in client funds since 2006.
As reported by Reuters, Hotton wired millions of dollars from his clients' brokerage accounts to entities that he controlled. To perpetrate the fraud, FINRA alleges that he forged signatures on letters of authorization, submitted false third-party wire request forms, and created fake investments. "Hotton went so far as to wire funds directly from customers' brokerage accounts to the accounts of other investors who were demanding to be repaid," the complaint alleged.
Hotton was equally deceptive when convincing Rebecca producers that he could deliver financing for their show. Prosecutors allege that he fabricated an elaborate scheme to dupe producers into believing that he had successfully secured investors. Hutton "faked lives, faked companies and even staged a fake death, pretending that one imaginary investor had suddenly died of malaria," according to Manhattan U.S. Attorney Preet Bharara.
This case is yet another reminder of the importance of due diligence. A background check into Hotton reveals a number of red flags, including 12 prior customer complaints and personal bankruptcy.
If you have been the victim of stockbroker fraud or negligence, we may be able to help you recover your losses. Contact us today at 215-839-3953 for a free consultation.
At Wall Street Fraud, we are dedicated to offering assistance to those who have been hurt by improper corporate or investment practices.
If you have been the victim of stock brokerage fraud, securities fraud, mutual fund fraud, stockbroker fraud, annuities fraud, or any other type of investment fraud or negligence, please contact our securities fraud attorneys today for a free case evaluation. Our talented and aggressive legal and professional staff is eager to help you recover your losses.