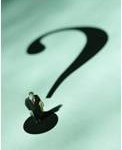 We continually remind our readers that the best way to prevent becoming a victim of securities fraud is to do your research. This means asking the right questions and then verifying the answers with a reliable source.
While many questions will naturally derive from your discussions with the investment professional, investors often want to know exactly what they should be asking. This raises an excellent point because it is important to make sure you are asking the right questions.
The Securities and Exchange Commission recently published an Investor Bulletin, entitled Top Tips for Selecting a Financial Professional. The bulletin is a great resource and outlines a number of questions that investors should ask about the broker or adviser's experience and credentials, as well as fees and costs associated with the investments.
Below are several of the most important questions:
What experience do you have, especially with people like me? What percentage of your time would you estimate that you spend on people with situations and goals that are similar to mine?
Are you registered with the SEC, a state securities regulator, or FINRA?
Have you ever been disciplined by a regulator or received customer complaints? If yes, what was the problem and how was it resolved?
Do you offer "house" products? If so, what types of products are they, and do you receive any incentives for selling these products, or for maintaining them in a customer's account? What kind of incentives are they?
What are the fees that I will pay for products and services?
How do you get paid?
If I invested $1000 with you today, approximately how much would you get paid during the following year, based on my investment?
Does someone else (such as a fund company) pay you for offering or selling these products or services?
If you have been the victim of investment fraud or negligence, we may be able to help you recover your losses. Contact us today at 215-839-3953 for a free consultation.
At Wall Street Fraud, we are dedicated to offering assistance to those who have been hurt by improper corporate or investment practices.
If you have been the victim of stock brokerage fraud, securities fraud, mutual fund fraud, stockbroker fraud, annuities fraud, or any other type of investment fraud or negligence, please contact our securities fraud attorneys today for a free case evaluation. Our talented and aggressive legal and professional staff is eager to help you recover your losses.