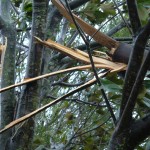 Hurricane Sandy left a trail of disaster in her wake, and many victims are facing thousands of dollars of damage. To fund the recovery, many investors may be considering tapping into their 401(k) accounts. However, before making any decision, it is important to understand both the risks and benefits.
The good news is that the federal government is making it easier for Sandy victims to take hardship loans and distributions from 401(k) accounts. The Internal Revenue Service announced that a retirement plan can allow a Sandy victim to take a hardship distribution or borrow up to the specified statutory limits from the victim's retirement plan. Individuals living outside the disaster area can also take out a retirement plan loan or hardship distribution and use it to assist a family member who lived or worked in the disaster area.
Although tapping into your 401(k) can provide much-needed relief, it is important to understand that there are financial consequences. As detailed by the Financial Industry Regulatory Authority, it is important to remember that the money you withdraw will not grow if it isn't invested, and repayments are made with after-tax dollars that will be taxed again when you eventually withdraw them from your account.
In addition, investors should be aware that the fees associated with a 401(k) loan may be higher than on a conventional loan, depending on the way they are calculated. The interest also cannot be deducted even if you use the money to buy or renovate your home. The greatest risk is that you leave your job before the loan is paid in full. In this case, you may have to repay the entire balance within 90 days of your departure or risk default.
Finally, it is important to protect any money that you withdraw from your 40l(k) account. As we have previously discussed on this blog, unscrupulous investment professionals, contractors, and other individuals are notorious for preying on disaster victims.
If you have been the victim of investment fraud, we may be able to help you recover your losses. Contact us today at 215-839-3953 for a free consultation.
At Wall Street Fraud, we are dedicated to offering assistance to those who have been hurt by improper corporate or investment practices.
If you have been the victim of stock brokerage fraud, securities fraud, mutual fund fraud, stockbroker fraud, annuities fraud, or any other type of investment fraud or negligence, please contact our securities fraud attorneys today for a free case evaluation. Our talented and aggressive legal and professional staff is eager to help you recover your losses.