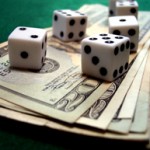 When meeting with an investment professional, one of the most important issues to discuss is your risk tolerance.
The amount of risk you are willing to take will inform the broker's recommendations going forward, so it is important to make sure you are on the same page.
Risk tolerance will vary from investor to investor. For instance, young investors have more time to reach retirement goals and, therefore, may be more willing to take risks. Conversely, older investors who are approaching retirement may want to play it safe. However, age is not the only factor; your personality, personal experiences, and current financial circumstances should also be taken into consideration.
The bottom-line is that you should be confortable with your investment choices and only risk what you can afford to lose. For those who are risk averse, brokers should place a greater emphasis on predictable, income-producing investments, such as bonds and bond funds. For risk takers who have at least 15 years to meet their financial goals, a diversified portfolio of stock, stock funds, stock ETFs, and certain fixed-income investments may be more suitable.
Finally, it is important to make sure that the broker honors your stated risk tolerance. If he or fails to do so, you may be able to recover any losses attributed to the unsuitable investments.
Source: FINRA
If you have been the victim of stockbroker fraud or negligence, we may be able to help you recover your losses. Contact us today at 215-839-3953 for a free consultation.
At Wall Street Fraud, we are dedicated to offering assistance to those who have been hurt by improper corporate or investment practices.
If you have been the victim of stock brokerage fraud, securities fraud, mutual fund fraud, stockbroker fraud, annuities fraud, or any other type of investment fraud or negligence, please contact our securities fraud attorneys today for a free case evaluation. Our talented and aggressive legal and professional staff is eager to help you recover your losses.