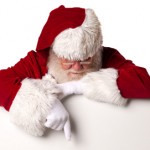 Affinity fraud—investment scams where the perpetrator is or pretends to be a member of the group he or she is trying to defraud— are on the rise. Just last week, we discussed a Brooklyn-based brokerage firms that is facing charges after targeting the Polish community in multi-million-dollar investment fraud.
Unscrupulous investment professionals are always looking for a way to infiltrate a large group of potential "targets." Therefore, holiday parties sponsored by your local church, community organization, professional group or even book club could be a potential breeding ground for investment fraud.
With this in mind, we would like to share the SEC's tips for preventing affinity fraud:
Even if you know the person making the investment offer, be sure to research the person's background, as well as the investment itself – no matter how trustworthy the person who brings the investment opportunity to your attention seems to be.
Never make an investment based solely on the recommendation of a member of an organization or group to which you belong.
Don't fall for investments that promise spectacular profits or "guaranteed" returns. Similarly, be extremely leery of any investment that is said to have no risks. Promises of quick and high profits, with little or no risk, are classic warning signs of fraud.
Be skeptical of any investment opportunity that you can't get put in writing. You should also be suspicious if you are told to keep the investment opportunity confidential or a secret.
Don't be pressured or rushed into buying an investment before you have a chance to research the "opportunity." Just because someone you know made money, or claims to have made money, doesn't mean you will, too. Be especially skeptical of investments that are pitched as "once-in-a-lifetime" opportunities, particularly when the salesperson bases the recommendation on "inside" or confidential information.
If you have been the victim of affinity fraud, we may be able to help you recover your losses. Contact us today at 215-839-3953 for a free consultation.
At Wall Street Fraud, we are dedicated to offering assistance to those who have been hurt by improper corporate or investment practices.
If you have been the victim of stock brokerage fraud, securities fraud, mutual fund fraud, stockbroker fraud, annuities fraud, or any other type of investment fraud or negligence, please contact our securities fraud attorneys today for a free case evaluation. Our talented and aggressive legal and professional staff is eager to help you recover your losses.