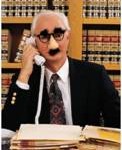 One of the most important lessons to come out of the Bernie Madoff scandal is that anyone can fall victim to an investment fraud, including wealthy and sophisticated investors.
But why is that true?
The Washington Post recently published a very interesting article that explored how our basic human tendencies make us prime targets for investment fraud.
Here are a few of the psychological biases that often harm our investing decisions.
We rely too strongly on first impressions. For instance, when we meet an articulate investment advisor who is dressed professionally, we assume he is legit.
As noted in the article, "We think that everything really is what it appears to be, and when we get a fact that doesn't quite fit in the puzzle, we force it in." This is known as "confirmation bias."
The best way to overcome this bias is to be on the lookout for fraud rather than confirmation.
We have a tendency to hope for the good and underestimate the potential for bad. This is known as "optimism bias." Fraudsters play on this bias by ensuring that victims receive initial investment gains in order to create a false sense of control.
As reported by the Washington Post, a study of scam victims by Britain's University of Exeter confirmed this illusion of control. Victims "believed themselves to be protected against fraud by the law and government to an extent that was in fact unrealistic or simply impossible," the study said.
We think we know more than we actually do. This is known as "overconfidence bias." As a result of this bias, even those with some experience in investing may still fall for investment fraud because they place too much emphasis on relatively little knowledge or research.
The bottom line: If someone approaches you with an investment opportunity that seems too good to be true, it probably is. Therefore, it is important to do your research and always proceed with caution.

At Wall Street Fraud, we are dedicated to offering assistance to those who have been hurt by improper corporate or investment practices.
If you have been the victim of stock brokerage fraud, securities fraud, mutual fund fraud, stockbroker fraud, annuities fraud, or any other type of investment fraud, please contact us today for a free case evaluation. Our talented and aggressive legal and professional staff is eager to help you recover your losses.