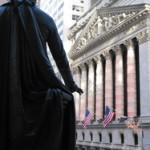 Business Week reports that UBS will pay $160 million to settle cases brought by federal and state authorities related to 100 U.S. municipal-bond transactions that generated "millions of dollars in ill-gotten gains."
UBS will pay $47.2 million to settle Securities and Exchange Commission charges and $113 million to end cases brought by other federal and state agencies, the SEC announced.
The settlement agreements are part of a four-year probe into a conspiracy by financial firms and municipal advisers to overcharge state and local governments for investment products.
"Our complaint against UBS reads like a 'how-to' primer for bid-rigging and securities fraud," Elaine Greenberg, chief of the SEC's Municipal Securities and Public Pensions Unit, said in a statement. "They used secret arrangements and multiple roles to win business and defraud municipalities through the repeated use of illegal courtesy bids, last looks for favored bidders, and money to bidding agents disguised as swap payments."
According to the SEC, some of the money will be returned to municipalities. This is good news as many municipalities across the country have suffered significant losses due to investment fraud, raising concerns that they might not be able to meet future pension payment obligations.
At Wall Street Fraud, we are dedicated to offering assistance to those who have been hurt by improper corporate or investment practices.
If you have been the victim of stock brokerage fraud, securities fraud, mutual fund fraud, stockbroker fraud, annuities fraud, or any other type of investment fraud, please contact us today for a free case evaluation. Our talented and aggressive legal and professional staff is eager to help you recover your losses.