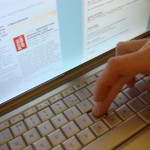 Should you trust investment advice provided in online newsletters? That depends. While legitimate online newsletters may contain valuable investment information, others are simply a means to perpetrate fraud.
As explained by the Securities and Exchange Commission, companies sometimes pay online newsletters to "tout" or recommend their stocks.  While touting isn't illegal, securities laws require that the newsletters disclose certain information, including who paid them, how much they're getting paid, and the form of the payment.
Nonetheless, scammers often misrepresent the payments they receive and their track records in recommending stocks. In the worst cases, they may spread false information to promote worthless stocks.
Therefore, investors should be on the lookout for newsletters that claim to offer independent, unbiased recommendations but are really profiting from pushing certain stocks.
Here's are a few tips to determine if a newsletter is legitimate:
Be suspicious of newsletters that do not specifically disclose who paid them, the amount, and the type of payment.
Do your own research. Assume that everything you read is suspect until you prove otherwise by your own independent research.
Check with the SEC or your state securities regulator to see if the newsletter has ever been in trouble.
At Wall Street Fraud, we are dedicated to offering assistance to those who have been hurt by improper corporate or investment practices.
If you have been the victim of stock brokerage fraud, securities fraud, mutual fund fraud, stockbroker fraud, annuities fraud, or any other type of investment fraud, please contact us today for a free case evaluation. Our talented and aggressive legal and professional staff is eager to help you recover your losses.