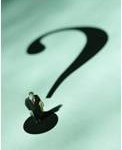 Many investors understand that it is important to ask conduct research before purchasing an investment product, but are not sure exactly what questions they should ask. In my experience, when investors fail to ask the right questions (or any questions at all), the risk for fraud and/or unsuitable investments increases dramatically.
With that in mind, below is the Securities and Exchange Commission's list of basic questions that you should ask before investing your hard earned money.
Is this investment product registered with the SEC and my state securities agency?
Does this investment match my investment goals? Why is this investment suitable for me?
How will this investment make money? (Dividends? Interest? Capital gains?) Specifically, what must happen for this investment to increase in value? (For example, increase in interest rates, real estate values, or market share?)
What are the total fees to purchase, maintain, and sell this investment? Are there ways that I can reduce or avoid some of the fees that I'll pay, such as purchasing the investment directly? After all the fees are paid, how much does this in- vestment have to increase in value before I break even?
How liquid is this investment? How easy would it be to sell if I needed my money right away?
What are the specific risks associated with this investment? What is the maximum I could lose? (For example, what will be the effect of changing interest rates, economic recession, high competition, or stock market ups and downs?)
How long has the company been in business? Is its management experienced? Has management been successful in the past? Have they ever made money for investors before?
Is the company making money? How are they doing compared to their competitors?
Where can I get more information about this investment? Can I get the latest reports filed by the company with the SEC: a prospectus or offering circular, or the latest annual report and financial statements?
If you have other questions, be sure to ask them as well. A reputable investment professional should be happy to answer any questions that you may have. In fact, he or she should encourage you to do so!
At Wall Street Fraud, we are dedicated to offering assistance to those who have been hurt by improper corporate or investment practices.
If you have been the victim of stock brokerage fraud, securities fraud, mutual fund fraud, stockbroker fraud, annuities fraud, or any other type of investment fraud, please contact us today for a free case evaluation. Our talented and aggressive legal and professional staff is eager to help you recover your losses.