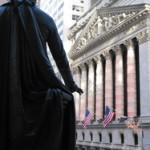 Prosecutors scored another victory against Wall Street fraud last week. Three former securities traders were convicted on all counts of fraud and conspiracy to commit insider trading on pending mergers, Reuters reports.
Brothers Zvi Goffer and Emanuel Goffer and a third trader, Michael Kimelman, their former partner at trading firm Incremental Capital LLC, were part of the same probe that nabbed Galleon Group hedge fund founder Raj Rajaratnam. To date, every defendant investigated and charged as part of the Galleon probe has been convicted.
In this case, the jury convicted Zvi Goffer, 34, a former Galleon Group trader, of two counts of conspiracy and 12 counts of securities fraud for activities between 2007 and 2009.
Prosecutors said he was a ringleader who paid tens of thousands of dollars in bribes to two Ropes & Gray lawyers to learn what corporate deals the law firm was working on. The lawyers, Arthur Cutillo and Brien Santarlas, have pleaded guilty to criminal charges.
Emanuel Goffer, 32, was convicted on one conspiracy charge and two securities fraud counts. Kimelman, 40, was found guilty of conspiracy and two counts of securities fraud.
"We will continue to work tirelessly with our partners at the FBI to root out corporate corruption on Wall Street and to hold privileged professionals who gallop over the line accountable for their actions," Manhattan U.S. Attorney Preet Bharara said in a statement.
At Wall Street Fraud, we are dedicated to offering assistance to those who have been hurt by improper corporate or investment practices.
If you have been the victim of stock brokerage fraud, securities fraud, mutual fund fraud, stockbroker fraud, annuities fraud, or any other type of investment fraud, please contact us today for a free case evaluation. Our talented and aggressive legal and professional staff is eager to help you recover your losses.