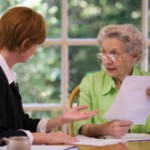 Many financial professionals use designations such as "senior specialist" or "retirement advisor" to suggest that they specialize in helping seniors invest their money. These titles and designations are sometimes misleading because it is difficult to discern whether the advisor has indeed received specialized training or has simply added the designation to his or her credentials as a clever marketing ploy.
To make matters more confusing, the education, experience, and other requirements for receiving and maintaining a "senior" designation can differ significantly.
In some cases, a financial professional may need to successfully pass several demanding exams and gain a certain number of years of experience to receive a particular designation. In other cases, it may be relatively easy to receive a "senior" designation, even for an individual with no relevant experience.
The best way to find out more about a particular professional designation is to check out the Understanding Investment Professional Designations page on FINRA's website. Of course, you should never rely solely on a professional designation and always conduct thorough research before hiring any investment professional.
At Wall Street Fraud, we are dedicated to offering assistance to those who have been hurt by improper corporate or investment practices.
If you have been the victim of stock brokerage fraud, securities fraud, mutual fund fraud, stockbroker fraud, annuities fraud, or any other type of investment fraud, please contact us today for a free case evaluation. Our talented and aggressive legal and professional staff is eager to help you recover your losses.