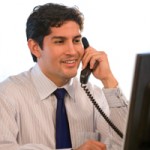 High-pressure sales calls (often described as cold-calling) occur when an investor receives unsolicited phone calls asking him or her to purchase securities. Callers often employ high-pressure, persistent tactics to convince the investor to act immediately on a so-called "once in a lifetime opportunity."
While some calls are easily identifiable as high-risk, high-pressure sales pitches, others proceed more slowly and can be more difficult to detect. Some brokers use a three-call system under which (1) investor receives an introductory call; (2) broker calls again to touch base and to develop a comfort level with the investor; (3) call is a sales pitch or an enticement to buy.
As detailed by FINRA, here's what you need to know to protect yourself and your money:
NASD's Telemarketing Rule (NASD Rule 2211) limits the calling time to between 8 a.m. and 9 p.m. Brokers calling must identify themselves by providing their name, firm name, address or phone number. If you do not want such calls, ask the caller to place you on the firm's "do-not-call" list.
Never send money to a firm or broker that you are hearing from for the first time simply based on a telephone sales pitch. If you do so, be prepared to accept the risk of losing the entire investment.
Find out about the broker's background via FINRA BrokerCheck or by calling the state securities office and Better Business Bureau.
Meet with your broker and visit the firm, if possible. Investments are major financial undertakings and should be afforded the same degree of investigation and caution as any other major purchase you might make.
When opening a new account, read the New Account Agreement carefully for all the terms and conditions, especially margin and credit terms. Fully understand what you are agreeing to.
Ask for and review written material before buying.
Make sure the broker knows and understands your financial profile and life circumstances.
If you detect a problem after investing, it is important to immediately raise your concerns to the broker as well as the firm's management or compliance department. If you suspect you have been the victim of high-pressure sales tactics, it is imperative to consult with an experienced securities fraud attorney.
At Wall Street Fraud, we are dedicated to offering assistance to those who have been hurt by improper corporate or investment practices.
If you have been the victim of stock brokerage fraud, securities fraud, mutual fund fraud, stockbroker fraud, annuities fraud, or any other type of investment fraud, please contact us today for a free case evaluation. Our talented and aggressive legal and professional staff is eager to help you recover your losses.