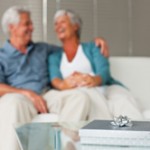 Suitability concerns arise when an investment made by a broker is inconsistent with the investor's objectives and investing profile (including age, financial status, long-term goals, income, and net worth of the customer). This often occurs when the broker encourages an investor to purchase an investment that the broker wants (often because it earns a higher commission) vs. an investment that may be best suited to the investor.
As detailed by FINRA, here's what you need to know to protect yourself and your money:
Read and understand the terms of any new account agreement you may be asked to sign with the firm. Make an informed decision before agreeing to allow the broker to use discretion in buying or selling your investments. Also, fully understand how margin and other credit provisions work and the circumstances in which you could be asked to pay additional monies.
Understand and agree to what is being purchased before the transaction occurs. If you can't explain it, don't buy it.
Provide the firm with accurate information and don't inflate your net worth, income etc. Be candid about disclosing financial constraints. Doing so would help prevent running into a problem.
Ask to review what is on file at the firm regarding your account, such as a new account form with client profiles, margin account agreement, options account agreement, discretionary account agreement, etc. Do your homework, review prospectus material and conduct other research.
Thoroughly read and retain your monthly account statements, confirmations and any other information you receive about your investment transactions.
Be proactive, and ask questions. Keep good records of communications with the broker. Contemporaneous notes of your conversations with the broker will help. Also, repeat your sense of the conversation to ensure you both have the same understanding.
Can you afford to use margin or other credit? If you can, know exactly what to expect and under what conditions you may be required to pay additional funds should the price of the security drop.
If you detect a problem after investing, it is important to immediately raise your concerns to the broker as well as the firm's management or compliance department. If you suspect you have been the victim of unsuitability, it is imperative to consult with an experienced securities fraud attorney.
At Wall Street Fraud, we are dedicated to offering assistance to those who have been hurt by improper corporate or investment practices.
If you have been the victim of stock brokerage fraud, securities fraud, mutual fund fraud, stockbroker fraud, annuities fraud, or any other type of investment fraud, please contact us today for a free case evaluation. Our talented and aggressive legal and professional staff is eager to help you recover your losses.