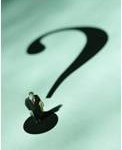 Last week, we highlighted a recent FINRA Investor Alert that cautioned investors about chasing higher returns by investing in riskier products. In today's post, we offer several key questions that investors should always ask before moving assets into any new investment product.
Does the higher return from the investment come with increased risk? Invariably the answer is yes. The promise of higher return is almost always associated with greater risk and an increased possibility of investment losses.
Do you understand how the investment operates?  The quest for higher return could lead you to very complex investments. If you do not fully understand how your investments function, you could find yourself surprised by outcomes you didn't expect, such as illiquidity, exit fees, loss of principal or the return of your investment in a form other than cash.
What are the costs and fees associated with the new investment? Higher returns may also come with higher costs in the form of fees and expenses. For example, hedge funds and structured products can be very costly, and since some of the costs are built into their return, it can be difficult to know what you are truly paying.
Is the product callable? Some investments are callable after a period of time, which means that the issuer can redeem the investment prior to the investment reaching maturity. If the issuer chooses to call the investment and you want to reinvest, you may find it difficult or impossible to find an equivalent investment paying rates as high as the original rate, a phenomenon known as reinvestment risk.
Could the new investment be fraudulent? Legitimate investments that promise returns of 30, 50 or even 100 percent per year without any risk to your principal simply do not exist. Always independently verify who you are dealing with and whether the seller of the investment is licensed to do business with you. You can confirm the status of an individual broker or firm using FINRA's BrokerCheck, and you can check on the status of an investment adviser or firm using the Investment Adviser Public Disclosure database.
At Wall Street Fraud, we are dedicated to offering assistance to those who have been hurt by improper corporate or investment practices.
If you have been the victim of stock brokerage fraud, securities fraud, mutual fund fraud, stockbroker fraud, annuities fraud, or any other type of investment fraud, please contact us today for a free case evaluation. Our talented and aggressive legal and professional staff is eager to help you recover your losses.