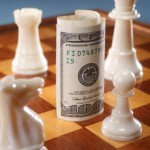 In the current economic climate, a certain catch phrase unfortunately rings true: "no pain, no gain." The truth is that all investments come with a degree of risk, and there is always the possibility that you could lose some or all of the money you invest.
Therefore, before purchasing any type of investment product, it is important for you and your broker to carefully determine your risk tolerance. For instance:
An aggressive investor, or one with a high risk tolerance, is willing to risk losing money to get potentially higher returns.
A conservative investor, or one with a low risk tolerance, favors investments that maintain his or her original investment.
Of course, many investors fall somewhere in between the two tolerances described above.
It is also important to note that risk goes hand in hand with suitability. As we have previously mentioned on this blog, suitability means that the investment is in line with your investment objectives and financial situation, which includes your risk tolerance.
In terms of risk, your financial professional (stockbroker, investment adviser, etc.) should not recommend an investment that exposes you to risk beyond what you can afford to lose.
Therefore, if you work with a financial professional, he or she is required to have enough information about you to determine whether that security is in line with your investment objectives and financial situation. In order to do so, he or she must ask questions to evaluate how risk tolerant you are, what your investment objectives are, and the status of your financial situation.
For instance, if are not planning to retire for many years, you may generate higher yields by carefully investing in higher risk assets, such as stocks or bonds, than if limit yourself to less risky products. On the other hand, lower risk cash investments may be appropriate for meeting short-term financial goals.
At Wall Street Fraud, we are dedicated to offering assistance to those who have been hurt by improper corporate or investment practices.
If you have been the victim of stock brokerage fraud, securities fraud, mutual fund fraud, stockbroker fraud, annuities fraud, or any other type of investment fraud, please contact us today for a free case evaluation. Our talented and aggressive legal and professional staff is eager to help you recover your losses.