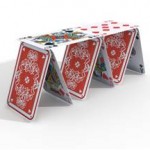 As we discussed yesterday, many believe that the credit-rating agencies are partly to blame for the epic financial collapse that still plagues our country. A former Moody's executive also shares that opinion, according to a recent article in the Washington Post.
In a detailed and lengthy letter to the Securities and Exchange Commission, William J. Harrington, a former Moody's senior vice president, details how the agency routinely squelched its analysts' concerns to keep deals and profits flowing.
Moody's managers intimidated analysts who stood in the way of favorable ratings, and its compliance department harassed employees who took an independent stand, according to the letter.
"Moody's incentivized an analyst to accede to all items demanded by an external paymaster and to work to the paymaster's schedule," Harrington wrote.
"The goal of management is to mold analysts into pliable corporate citizens who cast their committee votes in line with the unchanging corporate credo of maximizing earnings of the largely captive franchise," he wrote.
Repeatedly, Moody's management ignored internal warnings that employees responsible for rating securities backed by home mortgages were "pumping out worthless opinions," he wrote.
Moody's management and board "are squarely responsible for the poor quality of previous Moody's opinions that ushered in the financial crisis and should not be given first shot at debasing future opinions as well," he said.
Clearly, the country's leading credit agencies are facing mounting scrutiny with respect to their business practices. We will continue to keep our readers updated on any legal or regulatory developments.
At Wall Street Fraud, we are dedicated to offering assistance to those who have been hurt by improper corporate or investment practices.
If you have been the victim of stock brokerage fraud, securities fraud, mutual fund fraud, stockbroker fraud, annuities fraud, or any other type of investment fraud, please contact us today for a free case evaluation. Our talented and aggressive legal and professional staff is eager to help you recover your losses.