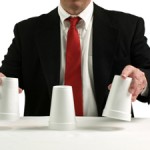 A former Smith Barney broker was sentenced to 38 months in prison for defrauding investors of over $3 million, Forbes reports. According to the United States Attorney for the Southern District of New York, Shah made unauthorized trades on behalf of investors that resulted in millions of dollars of losses. To cover up the losses, he then he stole $3.25 million from another client.
As detailed by the U.S. Attorney's office:
Between October 2008 and December 2008, Shah executed unauthorized foreign currency transactions on behalf of a foreign bank ("Client-1″) that  resulted in millions of dollars of losses to the client. To conceal his unauthorized trading and the resulting losses, Shah misappropriated  approximately $3.25 million from the brokerage account of another foreign bank that was a client of Smith Barney ("Client-2″).
In March 2009, Shad fabricated documents purported to be from representatives of Client-2 authorizing Smith Barney to execute at least two separate electronic transfers of funds totaling approximately $3.25 million. The funds were to be transferred from Client-2′s account at Smith Barney to an account held by another entity at another foreign bank. Shah subsequently sent fabricated emails to his email address at Smith Barney with attachments that purported to be letters from Client- 2 authorizing the two transfers.
Shah also falsely told the representatives of Client-2 that the transfers were necessary to purchase bonds that he had previously recommended. That same day, and again the following day, Shah represented to Client-2 that he would send statements reflecting the purported purchase of the bonds. After engineering the fraudulent transfer of Client-2′s funds, Shah sought to cover up his scheme by telling the representatives of Client-2 that a technical error on Smith Barney's computer system temporarily prevented the bonds from appearing in the online account statement. Shah reiterated that he had in fact purchased
the bonds for Client-2.
Shah pleaded guilty in November 2010 to one count of securities fraud and three counts of wire fraud. In addition to the 38 months in jail, Shah was sentenced to three years supervised release and ordered to forfeit $3.25 million.
At Wall Street Fraud, we are dedicated to offering assistance to those who have been hurt by improper corporate or investment practices.
If you have been the victim of stock brokerage fraud, securities fraud, mutual fund fraud, stockbroker fraud, annuities fraud, or any other type of investment fraud, please contact us today for a free case evaluation. Our talented and aggressive legal and professional staff is eager to help you recover your losses.