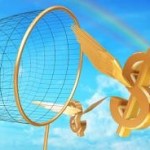 While the stock market has been plummeting in recent weeks, the price of gold has been steadily rising. Along with the record prices, there has been an explosion of blogs, websites, YouTube videos, television commercials, and Tweets centered on investing in gold. Unfortunately, not all of these investment opportunities are legitimate.
The subsequent rise gold stock scams has prompted the Financial Industry Regulatory Authority to issue a new Investor Alert called "Gold" Stocks—Some Investments Mine Your Pocketbook to warn investors about investment scams that promote gold stocks.
"Con artists are using the run-up in the price of gold as a hook to part investors from their money. Investors should think twice before investing in any gold investment promising exponential returns, or any company that claims it is a buyout target for other mining companies," said Gerri Walsh, FINRA's Vice President for Investor Education.
As detailed by FINRA, these gold scams may center on inflated claims regarding the stocks of gold mining companies whose stock value is often based on gold reserves that are difficult to estimate, much less verify. For example, the Securities and Exchange Commission (SEC) took legal action against a mining company based in Florida for false press releases claiming that a mining project in Ecuador contained gold reserves worth more than $1 billion.
FINRA's Investor Alert cautions investors to be on the lookout for any pitch for a gold investment that:
Claims to tie stock performance to the general rise in gold prices – a rise in gold prices does not guarantee a rise in the price of a gold company's stock;
Uses scare tactics such as the threat of inflation or an economic meltdown;
Makes speculative claims based on a new reserve's proximity to an existing reserve; or
Centers on a company that has changed its name or trading symbol to align it more closely with gold – for example, one company that currently purports to engage in gold mining was originally incorporated to provide golfing opportunities on private courses to nonmembers.
At Wall Street Fraud, we are dedicated to offering assistance to those who have been hurt by improper corporate or investment practices.
If you have been the victim of stock brokerage fraud, securities fraud, mutual fund fraud, stockbroker fraud, annuities fraud, or any other type of investment fraud, please contact us today for a free case evaluation. Our talented and aggressive legal and professional staff is eager to help you recover your losses.