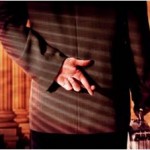 Former Nebraska City stockbroker Rebecca Engle was recently sentenced to two consecutive 18 to 36 months prison terms for her involvement in what prosecutors called the biggest securities fraud case in state history. Engle, 56, had previously pleaded guilty to two counts of fraud related to her role in the investment scheme, Bloomberg reports.
Engle and former Nebraska football player Brian Schuster are accused of improperly selling risky and unsuitable investments in several interrelated Florida companies to hundreds of investors. Most of those defrauded were nearing retirement age or had already retired and were seeking conservative, stable investments with little risk. Instead, Engle and Schuster invested their money in high-risk enterprises and never fully explained the risks, according to prosecutors.
According to court documents, Engle and Schuster characterized the Florida companies as "can't-miss deals" or "mini Berkshire Hathaways," referring to the enterprise run by billionaire Warren Buffett.
Thomas Sindelar, investigation supervisor for the Nebraska Department of Banking and Finance, told the Nebraska City News Press that the case is the worst securities fraud case in state history given the number of investors and losses involved. According to Sindelar, over 150 investors lost in excess of $20 million.
A federal class action lawsuit is pending against Engle, Schuster, their former employers, and several people connected to the Florida companies. Investors have also filed several lawsuits against companies that insured Engle and her brokerage business.
At Wall Street Fraud, we are dedicated to offering assistance to those who have been hurt by improper corporate or investment practices.
If you have been the victim of stock brokerage fraud, securities fraud, mutual fund fraud, stockbroker fraud, annuities fraud, or any other type of investment fraud, please contact us today for a free case evaluation. Our talented and aggressive legal and professional staff is eager to help you recover your losses.