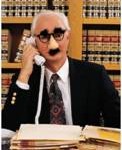 As we mentioned yesterday, the North American Securities Administrators Association cialis pills recently compiled a list of the Top 10 financial products and practices that threaten to trap unwary investors. In today's post, we will review the most common practices used by unscrupulous investment professionals.
Affinity Fraud. Marketing a fraudulent investment scheme to members of an identifiable group or organization continues to be a highly successful and lucrative practice for Ponzi scheme operators and other fraudsters. A recent national study of Ponzi schemes over the past decade found that one in four were marketed to affinity groups to increase the scheme's credibility and build the fraud. The most commonly exploited are the elderly or retired, religious groups, and ethnic groups. Investment decisions should always be made based on careful evaluation of the underlying merits rather than common affiliations with the promoter.
Bogus or Exaggerated Credentials. State securities regulators have led the effort to prevent the misuse of credentials or designations intended to imply special expertise or training in advising senior citizens on financial matters. Since 2008, 29 states have adopted laws or rules preventing such misuse. Now, state regulators are noting an increase in the use of other bogus credentials or exaggerated designations. State securities regulators have encountered salesmen pitching financial services or products with nonexistent law degrees or CPA certificates and expired or nonexistent CRD numbers. Others have boasted of impressive sounding designations that prove to be meaningless. In every circumstance, investors should press for full disclosure and the meaning behind all designations, and should check with their state regulator if they have any suspicions about claimed credentials.
Mirror Trading. The securities market is constantly evolving to provide investors with new products, different platforms and a variety of choices. The latest evolution is "mirror trading," which is promoted as an automated trading platform that ensures investors will participate in real-time transactions placed or executed by a skilled and knowledgeable third party. Whenever the third party executes a trade in his or her account, the same trade is mechanically placed on behalf of the investor in the investor's account. Investors should not be lulled into a false sense of security, and they need to continue to objectively evaluate and carefully consider all new or popular investment platforms. They should also recognize that unscrupulous traders and promoters may use trendy platforms such as mirror trading as a way to launch fraudulent schemes or manipulate markets by lying about their qualifications, misrepresenting the success of their strategies, or concealing their motivations and conflicts of interest.
Private Placements. Investors should be aware that, even in the case of legitimate issuers, private placement offerings are highly illiquid, generally lack transparency and have little regulatory oversight. In the United States, the federal exemption for private placement offerings provided under Rule 506 of Regulation D continues to be abused by criminals. Although properly used by many legitimate issuers, unscrupulous promoters use Rule 506 to cloak an otherwise fraudulent offering in legitimacy.
Securities and Investment Advice Offered by Unlicensed Agents. State securities regulators have identified a consistent increase in investor complaints regarding salesmen unlicensed as securities brokers or investment advisers giving investment advice or effecting securities transactions. For example, insurance agents offering securities or investment advice without a securities license have not demonstrated sufficient expertise to legally recommend that an investor liquidate securities holdings in favor of insurance products. Investors are often unaware that their insurance agent may not be licensed to give investment advice, and these recommendations too often turn out to be unsuitable or result in investors placed in under-performing products or those with hidden fees or long lock-up periods. Investors should insist that any time anyone recommends or suggests any transaction related to an investor's stocks, bonds, mutual funds or other securities holdings, the person must produce a proper license.
Source: NASAA
If you have been the victim of any of the above fraudulent practices, we may be able to help you recover your losses. Contact us today at 215-839-3953 for a free consultation.
At Wall Street Fraud, we are dedicated to offering assistance to those who have been hurt by improper corporate or investment practices.
If you have been the victim of stock brokerage fraud, securities fraud, mutual fund fraud, stockbroker fraud, annuities fraud, or any other type of investment fraud, please contact us today for a free case evaluation. Our talented and aggressive legal and professional staff is eager to help you recover your losses.