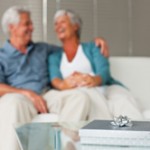 Regardless of gender or education level, Americans become less savvy when it comes to finances after age 60, according to a new study. As detailed by the Wall Street Journal, the results of the study suggest that we should try to make important financial decisions, including investing for retirement, before our abilities decline.
According to Michael Finke, an associate professor at Texas Tech University and a co-author of the study, the scores on a test measuring knowledge of investments, insurance, credit, and money basics fell about 2% each year starting after age 60. The scores fell from about 59% correct for those in their 60s to a dismal 30% for those 80 and older.
According to the study, our confidence in our financial decision-making abilities also rises with age, further compounding the problem. Contrary to the old adage, we are not really older and wiser. Rather, we are older, less smart, and overconfident.
"One of the great dangers is that when you reach retirement age, your ability to make financial decisions is pretty strong," said Finke. "You are near your peak of financial decision-making, and it can be often difficult to acknowledge that after this age, your ability to make decisions is going to decline."
Based on the results of his study, Finke makes the following recommendations:
Acknowledge that your ability to make financial decisions will decline after age 60. Don't think this won't happen to you; it will.
Set up a retirement-income plan where you don't have to make complex decisions as you age. You could delegate those decisions to an expert whom you trust. Or, better yet, a financial-services firm where you are not delegating to a single financial adviser, but to a firm that will take care of your finances as you reach advanced ages.
Consider annuitizing your income, preferably in a straightforward annuity-type product or a mix of annuity and investment products, Finke said. Consider also passive investments that automatically rebalance.
As noted by the WSJ, the lesson of the study is quite simple: "Don't delegate your financial decision-making to the 85-year-old version of yourself, who may not be as capable as the 65-year-old version."
At Wall Street Fraud, we are dedicated to offering assistance to those who have been hurt by improper corporate or investment practices.
If you have been the victim of stock brokerage fraud, securities fraud, mutual fund fraud, stockbroker fraud, annuities fraud, or any other type of investment fraud, please contact us today for a free case evaluation. Our talented and aggressive legal and professional staff is eager to help you recover your losses.