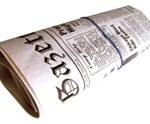 The Securities and Exchange Commission has filed an enforcement action against a New York-based firm that placed ads in the Wall Street Journal and other credible business publications promising 22 percent returns. As this case highlights, when it comes to investment opportunities, just because it's in the newspaper, it doesn't make in true.
According to the SEC, Murdoch Security & Investigations, Inc. ("Murdoch") and its two principal officers, Robert Goldstein and William Vassell, conducted an illegal, unregistered offering and sale of securities that raised more than $1 million from note holders, who were promised 22% annual interest on their investments.
More specifically, the SEC complaint alleges that Defendants, beginning in approximately October 2010, offered and sold notes to investors by placing advertisements in the Wall Street Journal and other financial publications. The SEC further alleges that Murdoch, through Goldstein, misrepresented material facts to investors about the security company, including boasts of highly lucrative overseas operations when, in fact, Murdoch lacked any international business whatsoever.
As detailed in complaint, Murdoch told investors that capital was needed to finance acquisitions of additional security companies that would enhance Murdoch's overall revenues and fund 22% interest payments to note holders. In reality, the money from new investors has been used primarily to fund interest payments to earlier investors and to pay the salaries of Defendants Goldstein and Vassell.
The SEC is seeking permanent injunctions against the defendants, and to have them return their allegedly ill-gotten gains with prejudgment interest, and pay civil monetary penalties.
At Wall Street Fraud, we are dedicated to offering assistance to those who have been hurt by improper corporate or investment practices.
If you have been the victim of stock brokerage fraud, securities fraud, mutual fund fraud, stockbroker fraud, annuities fraud, or any other type of investment fraud, please contact us today for a free case evaluation. Our talented and aggressive legal and professional staff is eager to help you recover your losses.