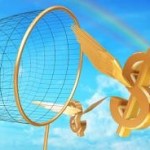 Unfortunately, "insurance" for investment fraud does not exist in the U.S. However, in the case where a brokerage firm goes bankrupt or a broker steals securities, there is a mechanism to help investors recover their funds.
The Securities Investment Protection Corporation was created to help individuals whose money, stocks, and other securities are stolen by a broker or put at risk when a brokerage fails, as was recently the case with MF Global.
What Is SIPC?
Though created by Congress through the Securities Investor Protection Act, SIPC is neither a government agency nor a regulatory authority. It is a nonprofit, membership corporation, funded by its member securities broker dealers
What Does SIPC Cover?
The cash and securities – such as stocks and bonds – held by a customer at a financially troubled brokerage firm are protected by SIPC.
Generally, customers of a failed brokerage firm get back all securities (such as stocks and bonds) that already are registered in their name or are in the process of being registered. After this first step, the firm's remaining customer assets are then divided on a pro rata basis with funds shared in proportion to the size of claims.
If sufficient funds are not available in the firm's customer accounts to satisfy claims within these limits, the reserve funds of SIPC are used to supplement the distribution, up to a ceiling of $500,000 per customer, including a maximum of $250,000 for cash claims. Additional funds may be available to satisfy the remainder of customer claims after the cost of liquidating the brokerage firm is taken into account.
The following are not covered by SIPC:
Losses due to market fluctuation, poor investment decisions or lost investment opportunities;
Investments in commodity futures, fixed annuities, currency, hedge funds or investment contracts (such as limited partnerships) that are not registered with the SEC; and
Accounts of partners, directors, officers or anyone with a significant beneficial ownership in the failed firm.
How We Can Help
It is important to note that investors are required to prove their claim before any funds are distributed. Therefore, it is crucial that investors keep detailed and accurate records of their investments, including monthly statements and trade confirmations. Due to the complexity of the process, it is often advisable to consult with an attorney who can ensure that you receive fair compensation for your losses.
If your brokerage firm is being liquidated or in other financial trouble, we may be able to help you recover your losses. Contact us today at 215-839-3953 for a free consultation.
At Wall Street Fraud, we are dedicated to offering assistance to those who have been hurt by improper corporate or investment practices.
If you have been the victim of stock brokerage fraud, securities fraud, mutual fund fraud, stockbroker fraud, annuities fraud, or any other type of investment fraud, please contact us today for a free case evaluation. Our talented and aggressive legal and professional staff is eager to help you recover your losses.