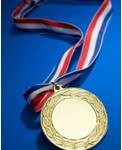 The FINRA Investor Education Foundation and the USA Track & Field Foundation (USATF Foundation) have announced that they are working together to help track and field athletes prevent investment fraud and make informed financial decisions.
As have noted on this blog, athletes are often targeted by unscrupulous investment professionals.
In the latest effort to combat fraud, the FINRA Foundation presented its Outsmarting Investment Fraud (OIF) curriculum at the 2011 USA Track & Field Annual Meeting, where track and field professionals learned how to check the background of financial professionals and spot an investment that is too good to be true.
The FINRA Foundation's OIF curriculum reveals the tricks of the con artist's trade by highlighting the psychological persuasion tactics con artists use to get their victims to make emotional rather than logical investment decisions. For track and field athletes, an understanding of these psychological tactics and how they can be used against investors can help them avoid becoming a con artist's next victim. The educational curriculum has been tested and shown to reduce susceptibility to investment fraud by over 50 percent among participants.
According to a press statement, FINRA and USATF foundations will work together to identify additional opportunities to provide financial education to track and field athletes.
"We are fortunate to have the FINRA Foundation and its investor education program now benefiting USA Track & Field athletes," said USATF Foundation Director Dan McClory, who was involved with the planning and launch of the pioneering program. "Our support of the USA's elite track professionals now includes the same program the FINRA Foundation delivers to NFL players," McClory concluded.
At Wall Street Fraud, we are dedicated to offering assistance to those who have been hurt by improper corporate or investment practices.
If you have been the victim of stock brokerage fraud, securities fraud, mutual fund fraud, stockbroker fraud, annuities fraud, or any other type of investment fraud, please contact us today for a free case evaluation. Our talented and aggressive legal and professional staff is eager to help you recover your losses.