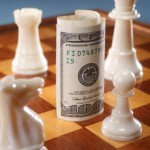 The North American Securities Administrators Association (NASAA) recently released its annual enforcement survey, which details ongoing efforts to combat securities fraud. As we have mentioned on this blog, NASAA consists of securities administrators in the 50 states, the District of Columbia, Puerto Rico, the U.S. Virgin Islands, Canada and Mexico.
The data, statistics, and trends included in the report provide a general overview of the state of state enforcement efforts. Below are some of the highlights:
State securities regulators conducted more than 7,000 investigations in the 2010 reporting period.
Nearly 3,500 enforcement actions were reported by the states, including more than 1,100 criminal actions.
The reported enforcement actions for this year represent a 51 percent increase over the total enforcement actions reported in the previous year's survey.
States levied fines or penalties in excess of $170 million. States ordered more than $14 billion dollars in investor restitution, and enforced the actual, reportable return of more than $12 billion dollars, or 90 percent, of that restitution in the same year.
State regulators took important action to remove or bar unscrupulous actors from the licensed community. More than 3,200 licenses were withdrawn, denied, revoked, suspended or conditioned due to state action.
More than 1,100 years of jail time were sentenced through the efforts of state securities regulators.
The majority of fraud cases featured unregistered individuals selling unregistered securities. Nearly 900 reported actions involved unregistered securities, and almost 800 actions involved unregistered firms or individuals.
Two specific products or investments were identified by state regulators far more than any other specific item: Rule 506 or Reg D offerings and real estate investments or interests.
States reported nearly 1,000 actions involving abuse of senior citizens.
The full report is available here.
At Wall Street Fraud, we are dedicated to offering assistance to those who have been hurt by improper corporate or investment practices.
If you have been the victim of stock brokerage fraud, securities fraud, mutual fund fraud, stockbroker fraud, annuities fraud, or any other type of investment fraud, please contact us today for a free case evaluation. Our talented and aggressive legal and professional staff is eager to help you recover your losses.