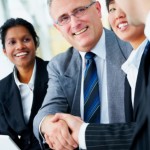 In this economy, investing is risky enough without worrying about investment fraud. That's why it's important to find a reliable broker, adviser, or financial planner.
Below are some steps to finding a good investment adviser, as outlined by a recent USA Today article:
Know what your goals are. Most investors want to ensure that they have enough money to live on in retirement. Yet others also may want to provide investments and assets for their heirs. Different professionals are suited for different objectives, including investment products or tax and estate planning.
Comparison Shop. Look for professionals who seem to meet your goals and then investigate out their backgrounds.
There are a number of ways to research investment professionals. You can go to BrokerCheck, which is a tool on FINRA's website. It allows you to search for brokers and their firms that are currently or previously registered with FINRA to learn about their education, where they have worked previously, and whether they have a history of disciplinary actions or complaints.
You also can obtain valuable information from your state securities regulator.
Interview advisers. Bring many questions when you meet with an adviser. Too often, consumers are embarrassed to ask for more details or a better explanation.
Gerri Walsh, vice president of Investor Education at FINRA suggests the consumers use a script like this: "Back up one second and bear with me. How exactly does this work? Exactly how does this make money for me? What exactly are the risks? What exactly will I have to pay to own this investment?"
FINRA also has a risk meter and a scam meter. If investors had run Bernie Madoff's investments through the scam meter they would have seen some red flags, Walsh says.
Below are several questions you should ask your financial planner
What experience do you have?
What are your qualifications?
What licenses do you have?
What products and services do you recommend?
Will you be the only person working with me?
How are you compensated? For example: Do you charge a flat hourly rate (or "à la carte" rate) for services? Is the fee a percentage of assets under management? Do you receive a commission or a referral fee paid by the product or service providers that you sell?
What organizations are you and your firm regulated by?
Will you provide a written agreement that details the services and fees that will be provided?
At Wall Street Fraud, we are dedicated to offering assistance to those who have been hurt by improper corporate or investment practices.
If you have been the victim of stock brokerage fraud, securities fraud, mutual fund fraud, stockbroker fraud, annuities fraud, or any other type of investment fraud, please contact us today for a free case evaluation. Our talented and aggressive legal and professional staff is eager to help you recover your losses.