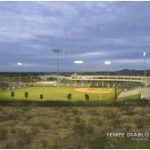 For many of us who enjoyed the movie "Rudy," it was disappointing to learn that Daniel Ruettiger, the Notre Dame football player chronicled in film, has been charged with running an elaborate stock scam. According to the Securities and Exchange Commission, the sports drink company he founded was primarily a pump-and-dump stock scheme that generated more than $11 million in illicit profits.
The SEC said Rudy Nutrition provided false and misleading statements to investors regarding its performance. For instance, the company touted that "Rudy outsold Gatorade 2 to 1!" in a major U.S. Southwest test, and flaunted that the drink outperformed Gatorade and Powerade by 2 to 1 in a blind taste test. Both claims were false, according to the SEC.
Through false or misleading statements like those described above, the team pumped up its stock price from 25 cents to $1.05 per share, the SEC said.
"Investors were lured into the scheme by Mr. Ruettiger's well-known, feel-good story but found themselves in a situation that did not have a happy ending," SEC enforcement lawyer Scott Friestad said in a statement.
Ruettiger has agreed to pay $382,866 to resolve the charges.
Source: Reuters
If you have been the victim of a stock scam, we may be able to help you recover your losses. Contact us today at 215-839-3953 for a free consultation.
At Wall Street Fraud, we are dedicated to offering assistance to those who have been hurt by improper corporate or investment practices.
If you have been the victim of stock brokerage fraud, securities fraud, mutual fund fraud, stockbroker fraud, annuities fraud, or any other type of investment fraud, please contact us today for a free case evaluation. Our talented and aggressive legal and professional staff is eager to help you recover your losses.