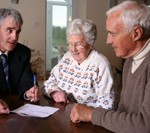 The Financial Industry Regulatory Authority has issued a regulatory advisory to firms regarding the use of certifications and designations that imply expertise, certification, training, or specialty in advising senior investors. This action highlights that misuse of these designations continues to be a concern for investors.
As we noted in a previous blog post, financial professionals often use designations such as "senior specialist" or "retirement advisor" to suggest that they specialize in helping seniors invest their money. These titles and designations are sometimes misleading because it is difficult to discern whether the advisor has indeed received specialized training or has simply added the designation to his or her credentials as a clever marketing ploy.
The FINRA advisory reminds firms that securities laws prohibit firms and registered persons from making false, exaggerated, unwarranted, or misleading statements or claims in communications with the public. This prohibition specifically includes referencing nonexistent or self-conferred degrees or designations or referencing legitimate degrees or designations in a misleading manner.
FINRA also highlights that investment firms must have adequate supervisory procedures in place to ensure that their brokers do not violate this requirement. As with all supervisory procedures, these procedures should be written, clearly communicated to employees, effectively enforced, and they should cover how approved designations may be used.
As noted in the advisory, firms that allow the use of any title or designation that conveys an expertise in senior investments or retirement planning where such expertise does not exist may violate FINRA, NASD, and NYSE rules as well as the anti-fraud provisions of the federal securities laws.
At Wall Street Fraud, we are dedicated to offering assistance to those who have been hurt by improper corporate or investment practices.
If you have been the victim of stock brokerage fraud, securities fraud, mutual fund fraud, stockbroker fraud, annuities fraud, or any other type of investment fraud, please contact us today for a free case evaluation. Our talented and aggressive legal and professional staff is eager to help you recover your losses.